India!
What pictures come to your mind when you hear that word.??
Pictures of a developing economy?
Pictures of modernization?
Pictures of IT revolution.?
Or Pictures of Poverty..??
When I worked atHi-Tech city in Hyderabad, I was sometimes disturbed by the growing difference between the people. On one end, you have this technology boom because of which you see young boyz and girls getting loads of money and spending it on Multiplexes, Levis Jeans and Nike Shoes...And on the other end, you see people struggling to get 3 square meals a day.
These people work as daily construction of industrial parks (IT city..!)
From
Time Asia Magazine
:In Hyderabad, a migrant worker and her daughter sit outside their temporary hut near HiTech City. Men, women and children leave their economically depressed villages in the north to work as daily laborers on the construction of industrial parks and shopping malls in the more affluent south .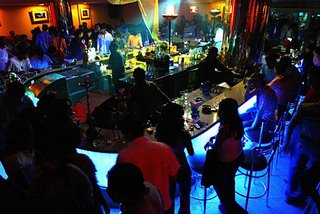 From Time Asia Magazine:
Saturday night in Hyderabad. With the infotech boom in full swing, members of the younger generation enjoy their disposable income at the Bottle and Chimney Pub in the capital of Andhra Pradesh state
TIME Asia has a
special feature on India
. I got the upadates from
Sambharmafia's blog
What is on the magazine.
1.
Growing divide between the rich and the poor
.
2. Mumbai is called the
"City of Dreams"
3. A
story on outsourcing
says that India might not have the cheap cost advantage in the long run.
4. There is an article on
transformation of the Tata group
5.
manufacturing boom
and the
India – China comparison
.